One day, an artist reached out to me on Instagram and invited to have a studio visit. It was so unusual to get such request via Instagram, but we shouldn't underestimate the power of social media nowadays. Anyways, we scheduled a meeting and it became a foundation for our six-month partnership that resulted in a big art exhibition.
Working as a freelance curator has its advantages and disadvantages. The positive side of working directly with artists is that you can make your own schedule, meeting times, work from home, and fully immerse into the project. Also, you can propose a curatorial fee that you think is worth your time. As for the negative side, you always need to be on top of the project and not everyone can keep up with an unlimited number of things to do. Moreover, curatorial fees are not regulated in this scenario and you might not be well paid for the job (mostly due to lack of a budget and funds) and do it just for exposure.
The last statement wasn't the case for my project, but what it lacked was a real collaboration and openness to go from making everything "in-house" (by one person that can be trusted and rely on) to have a bigger team and assign tasks to other agencies. I agree with an international curator and art critic Haizea Barcenilla that "collaborations often open up ways of seeing, of working and of analyzing to which we would not have access otherwise." I had to be a curator, marketing and social media manager, graphic designer, event planner, caterer, etc.
I met the artist twice a month, I interviewed him to get to know his story, his practice, and vision – so we can formulate a statement for our upcoming show. It was a slow process and I can't say that it is a bad thing – this experience helped the artists to bypass his fear of public exposure and get rid of hesitation that his art will not be accepted by the audience. We gradually developed a concept, found a great venue, selected artworks, sent out a press release and got ready to host an opening night.
Every exhibition is a way to learn and always make a better event in the future. I've created a list of my things to consider that may help you make your exhibition better.
1.Know the audience you and/or your artist wants to target. Our first show was created as a "get to know the artist and his practice" and to showcase artworks in a gallery space. The comment I got from the artist after the show is that he wants to focus on people who will buy his art. This leads to my next point.
2.If you have a budget for PR/outreach – hire a PR company. My strategy for the first show was to email every curator, designer, gallery, art institution as well as advertise the show on akimbo, social media, newspapers, online, etc. If you want a wider or specifically targeted outreach – find a marketing agent who has contacts that fits your "ideal" public.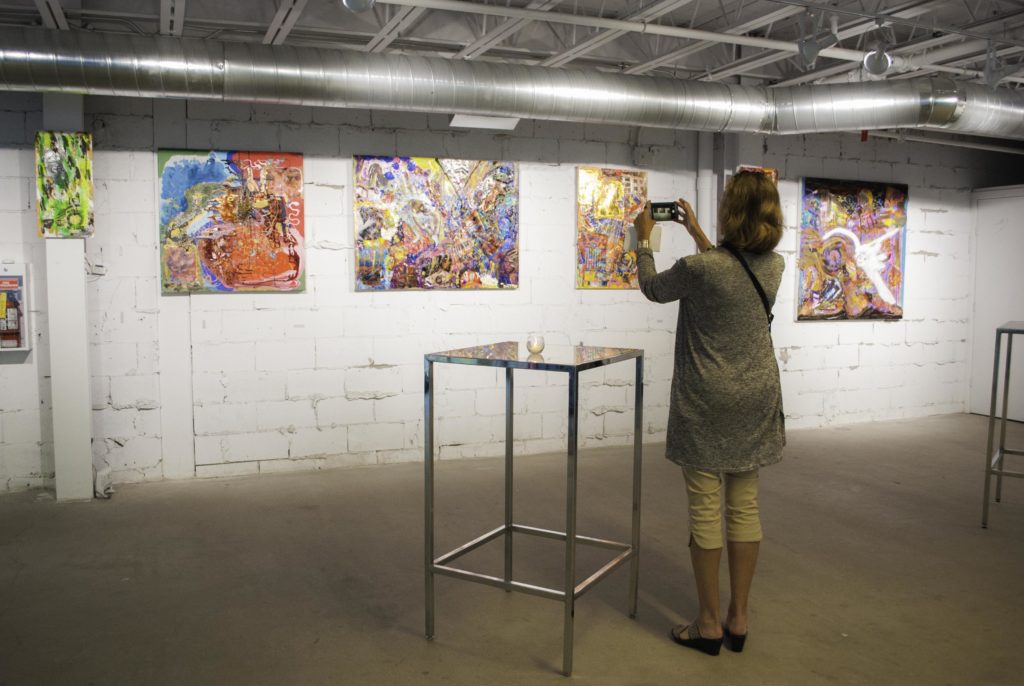 3.Show the venue to the artist in person. This way you will never get any disappointments and unexpected reactions. We had a two-level venue that was well-lighted on the high level and not as well-lighted on the bottom. Moreover, one of the light on the bottom floor stopped working 45 min prior to the show and we brought in LED lights to save the art from staying in a dark. Many visitors actually commented that they liked the effect we had with the lights and the experience of art was so different on two levels and made them think about light reflections on the paintings. The artist, unfortunately, was disappointed, and the positive reception from his guests didn't change his opinion.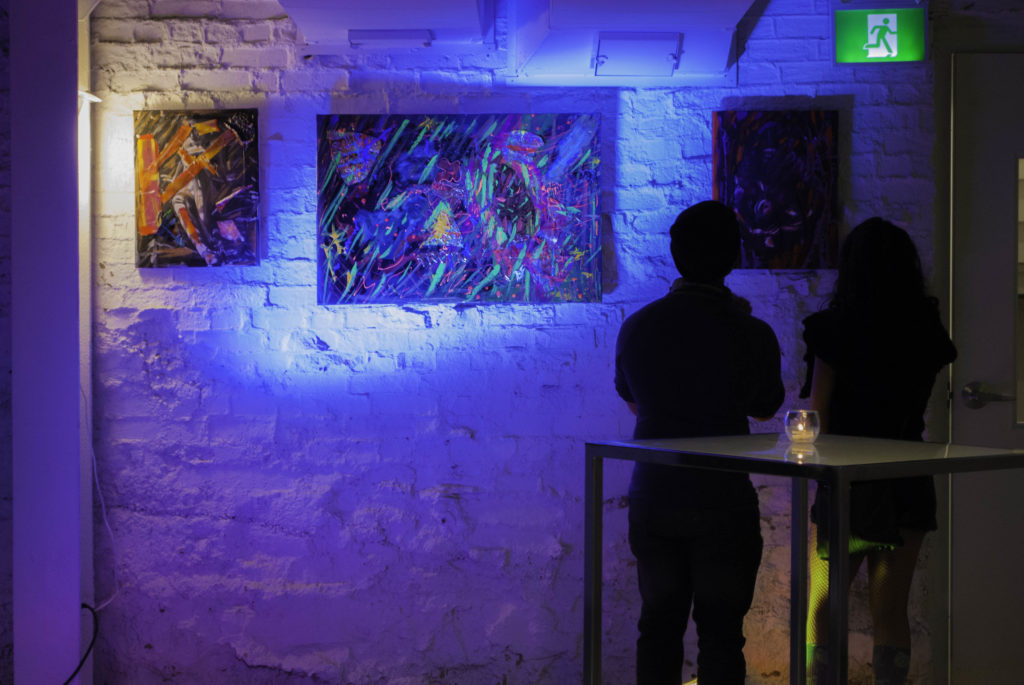 4.A Large venue can produce a "wow" effect but at the same time, it can be too big for the audience to stay focused. It's always great when you have lots of wall space to showcase art but use it wisely.
5.Have a written curatorial or artist statement at the show. My original intention for this exhibition was to produce an interview-based catalog where the reader could get to know the artist, who has his first big art show, as well as get to know the story behind his art and art practice. I wrote a small paragraph that was added to the press release, and many visitors brought it up during our conversations during the show. They were intrigued by this statement and were seeking to learn more about the artist. I didn't want to push the artist and stress him even more, but a written explanatory component is a key to any exhibition.
6.Have a good photographer. A MUST. PERIOD. You need to have documentation for your records and artist's records. Cut your budget on food or drinks but hire a good photographer.
7.Have music during the exhibition. You need to initiate the movement of people in the gallery. All my previous shows included music and people always comment that music helped them enjoy their experience and engagement with the art. Convince your artist/s that music is important and will not distract people or diminish the experience.
-Curator on the go