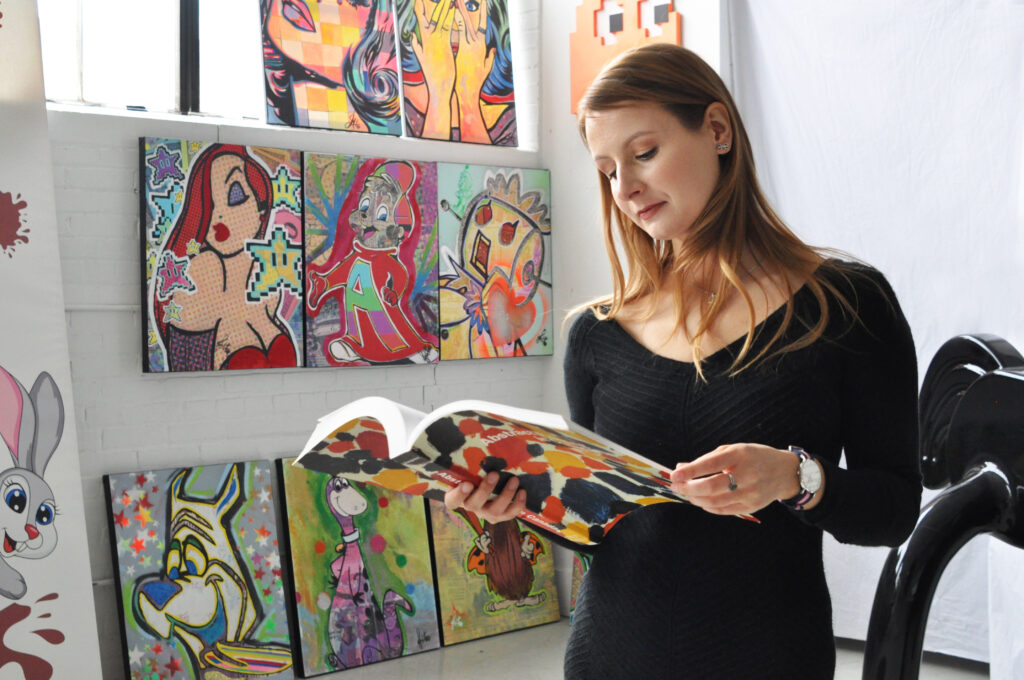 It's time to take you from where you currently are to the next level!
If you're committed to taking consistent action and open to receiving honest, no-nonsense feedback to support your business growth, then we need to talk.
Individual one-on-one Consultations for Artists
Regular Session (60 min) – $150.
Mini-Session (30 min) – $90.
Curator on the Go offers one-on-one individualized consultations that are catered to the artists' needs and topics may include:
Finding your artistic voice & defining your career path. Creating a month to month plan and highlight your goals and tasks;
A general critique of your art portfolio. Help you update your artist statement, catalogs, price/service kits, media kit, sponsorship packages, etc. 
Selling & pricing your art/services online and in-person. Price adjustment is based on current market prices, demand, and similar artists on the market.
Approaching galleries and other art professionals;
Strategic use of social media and website. Help with social media (content creation + followership growth) and newsletter content + outreach to local influences who can promote the artist or can be interested to co-promote; 
Branding and marketing. I look at all social media accounts and artist portfolio and work with artists on branding their website/social media/documents in one style;
Overseeing marketing and sponsorship opportunities from local & international brands;
Looking for and helping to apply to relevant art competitions, grants, charity events, and art commissions;
Identifying your ideal audience;
Curating exhibitions in galleries, art institutions, boutiques, restaurants, trade shows, etc.;
Creation and evaluation of contracts and agreements;
And much more…….. 

*If you have an Agreement/Bio Statement/Artis Statement/Exhibition Proposal/Art Submission Form, etc. that you want me to review: I'll review the document before our call and our phone session will be 20 minutes (for a mini session) and 45 minutes (for a regular session). The price remains as above.
NOTE:  If you are not sure if I can help you, and you want to be sure before making payment, please e-mail liza.curatoronthego@gmail.com, tell me specifically what you need help with, and I'll let you know if I believe that I can help you. I only accept clients for whom I know I can make a difference. If I don't feel completely confident about being able to support you, I won't waste your time or money!
---
"In two short years, Liza has assisted me in growing my art business exponentially. With her consistent and innovative ideas, Liza helped me expand the range of exposure and her level of expertise in implementing these ideas is exemplary. Always professional, her commitment to the growth of my career has inspired me on so many levels and has given me the courage to explore, even deeper, the path of my career. Liza asks provocative questions that have given birth to new work and meaning to works already in progress. Many times, she has helped curate my work for exhibits and also for calls for entry, which have gleaned successful results. 
Liza's extensive knowledge of social media and the business of art has provided me with crucial tools that have benefited me as an artist and entrepreneur. I consider myself extremely fortunate to be working with a mentor who I trust to give me honest feedback and encouragement when I need it. To say that having Liza on my team is an asset is an understatement and anyone who gets to work with her is fortunate to do so."
–Robbie Kaye. Artist at @robbiekaye 
"We started working together shortly after a group exhibition in Toronto, (which was a phenomenal experience for me) directly due to the professionalism and enthusiasm of Liza and her crew. During our coaching sessions, I learned many things about the art business that I never would've, had I not worked with Liza. She taught me about the importance of organization, how to be productive daily and to keep track of my progress on online platforms. I so enjoyed our weekly coaching sessions, chatting with Liza inspired my practice on many levels and absolutely played a part in much of my success today as a working creative. Liza is not only passionate and inspiring, she is trustworthy, dependable, and very hard- working. She has a lovely way of fostering positivity and joy for the creative process, one can see immediately upon meeting Liza that although this is her business, there is a genuine love and pride she takes in helping and inspiring artists."
-Mishel Shwartz. Artist at @mishelart2
"As a Toronto-based artist, I have worked with Liza over the past several years and have been consistently impressed with both her dedication to promoting art and culture in our city and her ability to nurture and encourage artists at all stages of their careers."
 -Fiona Debell. Artist at @fionadebellart 
"Liza has encouraged me to explore personal experiences in my work such as growing up as a first-generation American of Cuban and Argentinian descent in the United States, exploring how my previous career as an attorney has informed my career as an artist, and most recently, helping me to dig deeper in my practice as I process my experience with infertility and motherhood. Liza always asks pointed questions and forces me to think outside the box providing practical and actionable advice. Liza interviewed me for her podcast and she has provided invaluable input on my career. Her podcast and her Instagram page are both among my go-to destinations for inspiration. It can often be difficult to know who to trust in our industry but with Liza, there is no question for me that she is someone I can turn to for honest guidance as I continue to advance and grow in my career."
-Monica Shulman. Artist at @monicashulman
"Liza's experience and wealth of knowledge of the art industry is priceless."
-Mindy Finlayson-Pynn. Artist at @melinda.finlayson.art
"I don't know anyone who is more passionate about curating than Liza in the city of Toronto"
-Mahyar Amiri. Artist at @itsmahyar
"Thank you Liza for your amazing help and guidance! Your calm and insightful advice is just incredible. I can actually enjoy my online presence thanks to you!"
-Maria Kelebeev. Artist at @hannatess_arthaus
"Love what you are doing and especially would like to see more women take charge in your field. There is a huge difference in the business of art and the inspiration of art.  Your work is nicely balancing both worlds and inspiring more upcoming artists to explore their options to become more successful."
-Doona Young. Artist at @donnayoungart
---
Looking for some training and some coaching?
You know that you'll need more than one session to get moving, yet the investment required for a long term coaching relationship simply isn't possible for you right now? Then Curator on the Go Club Membership might be exactly what you need.
Through this program, I work with a small group of artists helping them reach new heights in their art business + career.
Want it broken down more clearly? This Program includes: 
Bi-weekly inspirations, tasks, social media and marketing tips, Ideas for monthly newsletters and promos, and a list of calls for art 

Monthly Zoom meetings (will return in 2022)
It is time to reconnect with fellow creatives, inspire and support each other as well as have a group that will track your progress and will make sure you are not wasting your time doing things that will never work!✨ and I will guide you with love and passion as I always do?
It's only $30 a month ($1 a day of your investment in yourself to be exact). Subscription is on a monthly basis. Email me at liza.curatoronthego@gmail.com to join the fun!